6 Digital Marketing Strategies for 2019
6 Digital Marketing Strategies for 2019
Read below if you REALLY want to learn some strategic marketing hacks for you and your business in the New Year as I go into detail with 6 digital marketing strategies for 2019.
'Content, content, content. Focus on content for your marketing in 2019'.
– Every basic marketer out there
Thanks genius.wearable mens hiking watches
Are you a digital marketer, business owner, or entrepreneur? Well, if you're like me, maybe you're sick and tired of consuming all this content, with no context. Hundreds of digital content creators preach their marketing ideas without giving in-depth examples. I can't help but think of the infamous 'Where's the Beef' Wendy's commercial from the '80s. Context is the juicy MEAT of content. It's what we can grasp and hold onto.
Even Neil Patel in his 2019 marketing strategies video only covers a few broad topics like audio, podcasting, and video content —- without going into much detail or strategy. Thanks Neil. I'm only joking, I love Neil, but these are popularized marketing topics (that in my opinion are old news and getting played out). It would be more beneficial to talk about why they are popular in context of how they can be implemented for marketing. Broad strokes leave a messy canvas.

With the influx of content creators and digital marketers entering the space, it's important to weed out the fluff to find the valuable information. So, read below as we cover the trends, suggestions, AND examples … with 6 digital marketing strategies for 2019.
Here is an overview of the 6 topics — For more context scroll further down.
Reverse Engineer the customers attention using digital ad platforms, content, and targeting — all with the AIDA marketing model — to drive consumer purchase behavior.
Include all your marketing into one suite where you can read, analyze, and understand the performance. You can use

Google Marketing Platform

(formerly Doubleclick),

Adobe

, or even simpler marketing suites like

Hubspot

.
Content Marketing

(like .. really good creative content)
Stop just posting to post. Stop going through the motions. Don't worry, we're all to blame (including our team). Only make content if it's valuable, planned, and has a goal or strategy in mind. Otherwise, you're doing nobody any favors and simply cluttering the already busy internet. You can always document over create.
Think of the main questions people have around your product or service, and then answer it concisely. Add in contextual information below with more detail and value, but be succinct at the top — like with a list or recipe. Do this right, with the proper technical backend too, and you can rank at the top of Google.
Google Ads

(formerly known as Adwords)
This can be expensive and competitive, but it can also be lucrative. Make sure to fully understand the new interface and targeting options. Google has added robust features with not only search, but display and video ad options and targeting too. Definitely make sure your account is properly structured with analytics and conversion tracking.
Okay, so everybody is advertising on Facebook, and the CPM is skyrocketing. However, Facebook loves to prioritize those trying its new ad campaign options especially if they can figure out the targeting and creative. So, try to better understand your audience first, and then focus some advertising efforts on newer ad campaign types such as augmented reality, instagram video swipe up, and more.

Learn more about these 6 marketing hacks in detail below!

1. Digital Strategy
"Failing to plan is planning to fail."
We've all heard that old adage, but are you actually planning out your marketing for 2019? Doubtful right, especially as a small business owner. We don't have the time, budget, or resources. However, we believe that if you actually understand your customer base (which even most small business owners do), then you can reverse engineer their consumption of your product or service. It all starts with getting their attention though. Honestly, that's usually the hardest part.
Eric Bernskiold with Bernskiold Media (along with countless other marketers) have been writing about the rising costs of digital advertising…. and guess what? They're right. Even my man Gary Vee (aka Gary Vaynerchuk — the one and only digital guru) talks about the rising cost of consumer attention because of all the constant distractions of consumer options. Yet he still believes that Facebook (and now more often, Instagram) can be our best platform for success. So what do we do about it as marketers? Facebook
and these other attention disrupting ad platforms are only as good as the marketer who uses them. It's all about getting the right message, to the right user, at the right time. Easier said than done, I know. Even Google talks about this core principles in a recent article mentioning how user consumption of cross platform devices has increased 500% in the past 3 years! Yes! 5x higher than 3 years ago. Maybe not so much for me, as I'm constantly using technology, but think about the last time you went an entire day without using a device.
Okay, so what's the point? Well, as a business owner or marketer, you should probably know and understand who the buyer is. What is this person's age, gender, demographic, industry, location, and more? What do they like to do in their free time, how do they spend their money? Answering these questions will allow you to put together a buyer persona. Our partners at Hubspot explain a buyer persona as a semi-fictional representation of your ideal customer based on market research and real data about your existing customers. So if you're able to fully understand who this person is then you should be able to understand what type of words and image can get their attention. Once you have their attention, then focus on getting their interest. Take them to a clever landing page or video that keeps their attention for more than a few seconds. Make sure you use Google Analytics and other marketing analytics platforms to understand these users and their attention span and use of your website. From their you need to collect their information with an easy and unobtrusive form or data collection point which will showcase their desire in your product.  Getting a customer to immediately purchase your product or service can be difficult. David Skok and other digital entrepreneurs have been explaining how it takes at least 7 touches to get a customer to purchase. So, make sure you're putting together really good drip and content campaigns to nurture this user the whole way through the funnel to the purchase stage. The end outcome is considered the desired ACTION. Get people to buy, then convince people to stay or refer. This is known as the AIDA marketing funnel. Make sure to ask those happy customers for referrals for 5 Star Reviews too!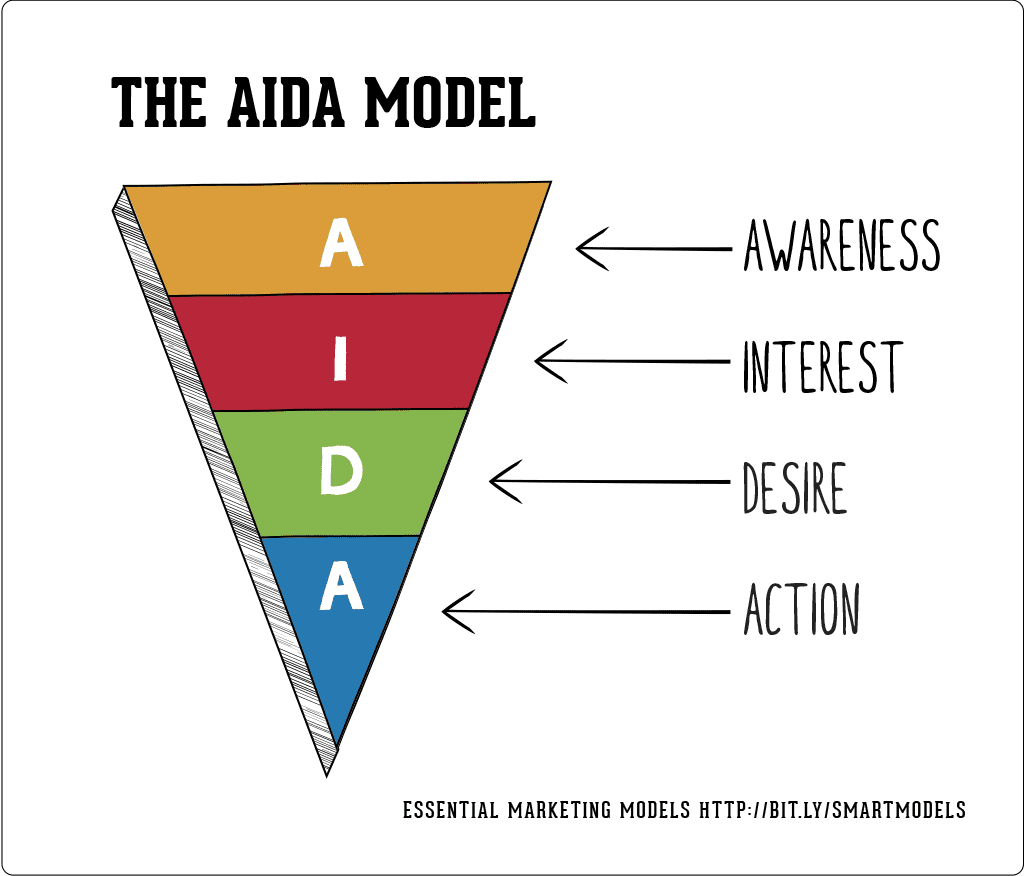 Example:
Business= Local Furniture Company
Campaign = Email + Direct Mail + Facebook
Details = Let's say you're a local furniture store and you want to target new home buyers. Well, you could scrape a database of new home buyers to collect their information and then send them a direct mail or email campaign offering them discounted home furniture. Give them a deal and create a relationship by offering long term customer value. You could even upload this list to a Facebook custom audience and run targeted campaigns with images of discounted home furniture to these new home buyers — probably targeting women over men.

2. Integrated Marketing

What's the last campaign you ran? What platform? Where do you review the data? Maybe it's Google Ads, Facebook Ads, or even an email campaign. Was it successful?
These are pretty standard questions. If you were a digital marketer you might have used Hubspot or Google Analytics to review the data — or even pulled the data into a templated report using something like SuperMetrics, Raven Tools or Report Garden.

Example of a Report Garden report.

Hundreds of amazing reporting tools exist. To be honest, I don't really care which one you use, granted, I've mentioned a few. What does matter is that you use something (anything), to review and analyze the data. This goes for most agencies and marketers too.
Integrated marketing in this article refers to using various digital marketing and advertising platforms and approaches while focusing on a unified campaign or strategy. What's essential is understanding those platforms, how the messaging caters to the users on those platforms, and how each campaign can drive a unified goal or action.
If you're running a holiday or New Year promotion, you want to make sure you're offering the same product/services, discount, campaign branding, and storyline. The messaging, creative assets and placement can all be different (although they should be similar). Although, you can test the messaging and creative out per platform as these do make a difference to find out what really drives user attention and behavior. Social platforms like Hootsuite have written articles about why you should change your messaging across platforms, and they make some valid points about how people use those platforms.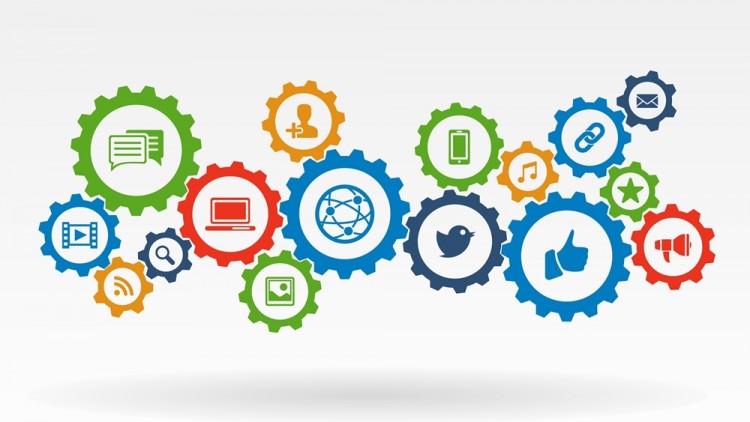 All things considered… here are some common terms to understand.
Placements

= Where your campaign or ads will be shown

Automation

= How to use scripts, algorithms, apps, or other optimization tools to automate your optimizations.

Analytics

= Making sure you understand the analytics from the campaign to find what medium or placement is performing the best

Big Data

= Collect big lists of data sets and reports to compute

This uses data to collect user contact information and personas

CRO & Heat Mapping

Using a data aggregator and analyzer to understand users, traffic and conversions for ROI

Example:
Business= Watch Brand (Jewelry / E-Commerce)
Campaign = Integrated Marketing Campaign for Holiday Sales
Platforms = Organic Social & Paid Social, Email Marketing, Paid Search, Shopping Ads, Display Ads, and Influencer Marketing.
Details = A small but emerging e-commerce men's watch brand looking to grow their online brand (followers) while also trying to increase sales. This means they need to combine social branding with digital advertising to focus on brand recognition with a discounted holiday special. They would target middle-aged men, who like the outdoors and are looking for a sporty hiking watch. They could run video ads on social with a brand lift Facebook awareness campaign and email marketing and display ads for the top of funnel traffic, while also running a discounted remarketing campaign and engaged email on the backend to see which funnels convert. By setting up the proper analytics and tracking tags they should be able to analyze the conversion funnel on the backend to find out their best CPA (cost per acquisition).
3. Content Marketing

Everybody talks about the importance of content. But is it reallllyyy that important? Well, it depends…. Is it good? Does it solve a problem or answer a question? Does it provide value? Does it instill emotion and invoke a reaction? These are the questions you must ask yourself.
The right content can make all the difference. Remember the Dollar Shave Club viral video?

You can create thoughtful and creative content on a shoestring budget. The right content can even go viral if you're clever enough.
Content also doesn't have to be video; it could also be in text or audio format. Some people are better at writing or speaking, than they are at being on camera or producing video content. Audio and text are also arguable much cheaper and easier too. Yet, video seems to dominate the emerging content spectrum. According to Wordstream and others, video seems to be the preferred means of content consumption with over 55% of people watching online video daily, and roughly 500 Million hours of daily video content consumed on YouTube.com daily.
According to Merchdope, there are 1.3 Billion users on YouTube and about 300 hours of video content are uploaded every minute. So, it's probably safe to say that not all this content is good content. Furthermore, it's probably safe to say that not all content is uploaded from businesses, and the content that is might be lacking clear strategy and emotion.
Our friends at Vidyard explain how creating an emotional response helps drive action using video. If you can make people feel something; maybe happiness, sadness, fear, guilt, despair — or a range of other emotions — then people are incredibly more likely to remember the video, ultimately leading to top of mind brand awareness. According to a study by Nielsen, in this article written by Forbes, In a 2016 study, they found that when individuals have a positive emotional association with a specific brand, they are 8.4 times more likely to trust the company, and 7.1x more likely to purchase from them. That study also lead to a 23% increase in sales from that video campaign.
Watch this video from St. John's Ambulance — this creates a very strong emotional appeal to both fear, and hope. I showed this to my mom. She really felt an emotional appeal; so much so that she almost really didn't want to support the brand.

Key Points:
Less is more, stop creating so much mediocre content
Focus on bigger creative content campaigns
Document over create (to publish consistent content)
Create an emotional response
Let's walk through an example ….

Example:
Business= Business Loan Company (B2B Loans)
Campaign = Client Testimonial Content Campaign
Platforms = Organic Social & Paid Social, Email Marketing, Video Ads & Commercials
Details = A business loan company could put together a heart-felt customer testimonial campaign highlight a story of one business owner's struggles with growth. They could focus on all the pain points this owner is facing and how by getting a loan and some cash flow they were able to bounce back and save their business. This is turn could lead to them become cash flow positive and debt-free, while also getting to spend more time with their family and the things they love.
4. SEO – Featured Snippets

Every business owner and marketer wants to rank higher on Google, but they don't know-how. Google is constantly changing and updating its algorithm, and more often placing emphasis on paid ads taking up most of the search results. Well, let me tell you that at the core of Google certain things will never change. This means Google still and will always prioritize giving people immediate response results to the things they are asking or looking for. Google is more of a service, not so much a product. So, by creating content that prioritizes what your customers are asking or looking for, then you'll drastically increase your chance for ranking higher to capture that relevant search traffic.
One way Google is updating its SERP (Search Engine Results Page) is by showcasing more featured snippets. A featured snippet is a type of rich snippet that is featured as a query result at the top of Google, and most of the time is answering a specific question.
This article by Moz covers the core details about Featured Snippets: what they are, where they are shown, and types of snippets included. Most snippets are formed as paragraph snippets that are held on an article page that succinctly answers a question from Google in paragraph text form. These make up 82% of the total snippet results.

The key point being made here is very simple ….. Quickly and accurately answer common questions about your businesses' products or services. A lot of time even Google answers the questions asked because they themselves have the answer because it relates to their products or services. See the example below as I asked Google about featured snippets.

Make sure to give this content a page for itself on your website. Also make sure to set up the proper technical SEO aspects surrounding that content and your website, to make sure it's optimized by Google's standards. This long-form article on Search Engine Journal discusses how to research then create content for Featured Snippets. I'd suggest taking some time to read and review it.
Key Points:
Answer people's question around your product or service concisely
Create the content and web page for this query
Implement technical SEO elements to the content
Get links to and from this page from relevant sources

Example:
Business = Fitness Company (National not local)
Campaign = How to Get 6-Pack Abs
Platforms = Website Content (also can be used via social media, video, and email campaign)
Details = Create written and video content around a program our routine that's likely to deliver the audience a good chance at developing a 6-pack of abs. You might want to mention a disclaimer, and that results may vary, but this content is judged by Google, not so much the users. The more accurate and appreciated the content is (website bounce rate, time spent on site, other session metrics) the more likely Google will use those metrics to rank your content higher. For content like this, I'd suggest making it into a list of bullet-pointed steps.
5. Google Ads – Updates & Targeting
This past year Google Adwords had a major overhaul as they even changed their name to Google Ads. They wanted to simplify the ad interface and make a unified brand push, as many of their other brands changed names and features as well (Doubleclick and Analytics suite). This is a big year for Google and rebranding — I think overall this was a very strong strategic move as Google (Alphabet) seeks to become better at their own marketing.
Having previously worked for Google, this seemed like a major facelift. This took a lot of thought, planning, testing, and implementation. If you're accustomed to the previous interface, then you're in for a big surprise. We're not in Kansas anymore. Nonetheless, I think this was a very strategic and important change from Google.
Along with the interface changes, Google also added some powerful advertising functions and targeting methods. My friends over at AdEspresso put together a list of the best continuous updates on Google Adwords — and I'd have to agree with many of them below!

Here is my recap of the most notable on the list of updates:
4 new search ad position metrics

The top 4 positions of Google search are now taken up by Google Search text ads — with the top add being recognized as absolute top.
Google Sheets integration updates

This conversion tracking feature allows advertisers to import conversions by syncing with the Google Sheets for correct attribution and tracking.
New goal-based campaign workflow

Google Ads now allows you to pick an objective per campaign (similar to Facebook ads) in which you have a focus goal in mind, for Google to then recommend certain campaign types.
TrueView beta closes, open to all advertisers

TrueView now opens up ad targeting options with TrueView in-stream for all YouTube advertisers on Google Ads.
Video ad sequencing

This sequences out videos ads to certain targets which is perfect for courses or services that need to focus on building a funnel of viewers leading to a conversion or certain action.
Call and Message Reporting Updates

Google Ads integration with call and message tracking has gone next level with in-depth reporting of text and call functionality.

Example:
Business = Fitness Company (National not local)
Campaign = How to Get 6-Pack Abs (Video Marketing)
Platforms = Search to YouTube Remarketing (Ad Sequencing)
Details = Creating and running a paid media strategy using Google Ads search, and then video remarketing. The first touchpoint would be running a low CPC campaign to target those looking for "how to get 6-pack abs". Once clicked, if they didn't convert, we would then create a Google Analytics remarketing audience to upload to Google Ads then run a YouTube video remarketing campaign sequence. This sequence would take that list of users through a series of videos aimed at converting the viewers to subscribe or purchase. For instance, the first video would showcase the program and how the viewers can get 6-pack abs. You can create a strategy where if they watch a certain % of the video but don't convert on the landing page, they will then see the next video in the sequence — which could be the first type of workout in the routine. The purpose of this is to pair videos with remarketing content to convince users, as you would with drip email campaigns. The only difference here is that they would have to watch the pre-roll video that can't be skipped or opted out of — unlike email.

6. Facebook Ads
If you never run a Facebook or Instagram campaign, then maybe skip this part, and find a new job while you're at it. No, but seriously, the days of $1 CPM and $0.01 CPC FB ads are long gone — that is unless you completely crush the targeting and creative portion of the ads. Regardless, Facebook, and more specifically, Instagram, still have great potential in your marketing mix. The engagement rate is almost 10x higher on Instagram right now, but the targeting and adoptions in Facebook probably level out that opportunity.
The type of ad and campaign you choose to run is completely dependent upon the audience, goals, and offer. What works for a local repair company won't work for a national e-commerce brand. You need to really strategize a perfected campaign for your market and demographic. Are you an e-commerce bikini company? Then I'd probably run a new shopping video swipe up product page conversion campaign on Instagram. If you're a local b2b service company, then I'd probably run a static image lead ad page on Facebook.
It's pure economics with Facebook. The amount of people advertising is increasing at a higher rate than people are using and engaging with Facebook. People are also becoming more numb to ads — meaning we're clicking them less and less — UNLESS the creative or targeting is too good to ignore. If you find something that works, then understand why it works and double down on it. For example, I've had a video remarketing ad I've been using for my Phone Repair company for the past year that gets me a $0.02 CPE. Of course, I'm going to keep using it, but I've also learned why it works. Ask me why!
That being said, the increasing cost of advertising on Facebook and Instagram will separate the men from the boys. Algorithms don't lie. The cream always rises. If your ad sucks, you'll know.
So, in order to not suck, think about a few things before advertising on Facebook and Google, and make sure to learn more about the new advertising features below. Our friends at Social Media Today agree with testing a lot of these new Facebook ad features…
Shopping in Instagram Stories

Swipe up on instagram video ads to be directed to the exact product page being mentioned or advertised.
Augmented Reality Ads

Try on new products and different colors or variations with the new Facebook Augmented Visual Reality Ads for products.
Facebook Stories Ads

Not only can you advertise in messenger and post stories to Facebook, you can actually run ads in each.
Now that you've learned about new ad types, let's take a look at that example in detail.
Example:
Business = Sunglasses Company (National not local)
Campaign = New Year, New You — Try a New Look (Video Marketing)
Platforms = Facebook and Instagram
Details = Running an augmented reality ad to test out a new product line of women's sunglasses. Allow a younger generation of girls to find a new pair of sunglasses as they start thinking about Spring Break and traveling. Also, run Instagram shopping ads for a swipe up story ad driving girls to a product page for one of the sunglass styles they liked and tried on from the Augmented reality ad campaign on Facebook. This combines both strategies while focusing on an ultimate conversion.
That's it. There you have it. ALL 6 Digital Marketing Strategies for 2019.
I know this was a lot of content, but I created it with purpose and value in mind.
What are the chances you read all of this? Not good, I know. However, if you did, I want to give you the chance to chat with me for 15 minutes at no cost. Tell me about your business, what you offer, and what questions you have for me!
Just to recap — Here are the 6 Strategies for Digital Marketing Hacks of 2019.
Content Marketing (like .. really good creative content)
Google Ads (formerly known as Adwords)
Thanks for reading, to those who did.
My name is Mac Frederick, Founder and CEO of Momentum Digital, and previous Google Employee. Follow me on Linkedin or Instagram for more information or to live vicariously through me 😉
Leave any comments and questions below for more details!