7 FREE Tips to Drive more Website Traffic
If you're a small business owner looking to gain more website traffic and customers, then we have the guide for you. In this week's blog, you will learn about SEO and Website Traffic as we talk about 7 Free Tips to Drive More Website Traffic! 
7 FREE Tips to Drive More Website Traffic
If you found this video useful then please SUBSCRIBE to our YouTube channel OR SUBSCRIBE to our Email List to stay updated on our latest blog posts & tips!
Welcome back to another installment of our Website Optimization series! This blog is a follow-up blog from The Ultimate Local SEO Cheat Sheet for Small Businesses. 
So, how can you drive more relevant website traffic? Instead of paying thousands of dollars for ads or hiring an SEO agency (cough, cough), maybe there are FREE and relatively easy ways to drive organic traffic to your website.
Getting traffic isn't easy, and neither is SEO. However, there are a dozen methods on how to get free website traffic. Neil Patel commonly talks about getting more traffic and optimizing your SEO, but he only works with large companies and charges a lot of money. Then you have software companies such as Wordstream that cover this topic on website traffic, yet they have a pay to play service that focuses on Search Engine Marketing.
Alright, so what can YOU DO as a Small Business Owner, to get more relevant and free website traffic, ultimately leading to more customers and revenue?
1. SEO (Search Engine Optimization)
SEO is our most valuable tool for reaching new and returning customers. This is our main secret when it comes to ranking for local searches, getting more phone calls, and acquiring over 50% of all our customers. 
As a free and organic tool, your business can rank higher on Google and other search engines by implementing these tips in turn increasing your business! 
Keyword Strategy

– this is the research done to create an extensive list of keywords you would like to rank for. This should take into account what your audience is searching for and cater to that with

long-tail keywords

.

Increase Page Speed

– Google cares a lot about user experience, and this is why page speed matters on your website! They want to avoid causing their users frustration at any cost. 

Almost

70% of all Google traffic is coming from mobile devices

, which is why it's so important to keep both mobile and desktop in mind while designing your site! The ideal loading speed for your site should be

around 1 to 3 1/2 seconds

. 

Remember to optimize for mobile devices as well and make sure your website is interactive to all users. A

ccording to a recent report by Hitwise, more than

50% of Google searches are now done on a mobile device

and

70% of that traffic will call a business directly

. 

Keeping your site interactive through the use of click to call buttons, functional links, and fill out forms will also help to increase your local SEO.
Optimizing Metadata

– This refers to the short snippets of data that Google can crawl easily. This appears both in and under your website in the search results. It should include a

title, description, and alt tags for images,

all of which utilize SEO optimizations for small businesses. 

This should be around 150 characters to summarize who you are and what you do.

It is also the first thing potential clients see when they search, so it's important to not only tailor this to Google's own algorithm but also to your customers and what they want to see.
Google My Business

–

Free and easy to use tool that allows businesses and organizations to manage how their business is represented on Google! This tool can be used on a desktop, tablet, or even a mobile app for your smartphone, so you can manage it on the go.

Within the

past year,

64% of consumers

have used Google My Business to find contact details for local businesses. 

The most important aspects of Google My Business are your

NAP or name, address, and phone number

. Keeping this consistent you will save yourself time later on while creating local listings to link back to your own site.  

Make sure to optimize your Google My Business page to its fullest by filling out your entire profile.

Watch our most recent

Google My Business Blog videos

for more information.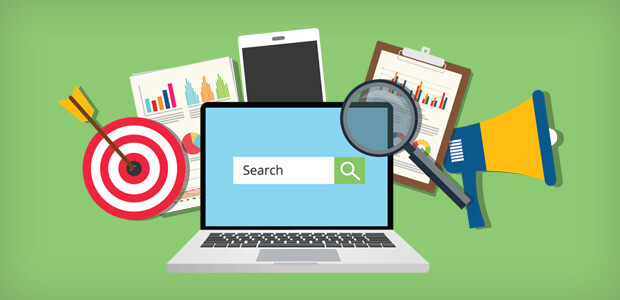 2. Content
There are 3 types of content you can create and post for your business. This should be unique, valuable, and relevant in order to obtain recognizability while also appealing to your potential clients! Content is a MAJOR component when it comes to driving FREE & Organic Website Traffic.
Written

HTML coded content like blogs or articles 

Video

The rich content video format that can be hosted on YouTube and embedded in your site (like above)

Audio

Podcasts and similar variations of audio content
The most consumed type of content is usually the following:
News & Entertainment

Informational & Educational
Remember that you don't have to reinvent the wheel. You can see what other people in your industry are doing and what is working and not working for them. Take the best aspects and do something similar with your own spin on it! 
Similarly, reduce reuse and recycle your content. If you've covered a topic that now is outdated or you have an important update, don't be afraid to reuse and update this. 

3. Social Media
Two major players that you want to keep in mind when wondering where to post your content is to Google My Business, as it'll help round out your profile, and Social media, as this is how people can organically find your content. If you want to drive more website traffic from social, then keep in mind a few of these key aspects.
This builds upon our previous discussion on content. Specific sites you can post to help Google understand you're a real and credible business are; 
It's important to center your social posts around providing value and uniqueness to your customers. Keep in mind what they want to see, hear, or read about and how it could benefit them. 
This will help you stop falling into the trap of posting just to post or going through the motions. We all fall victim to this.

As we've already said,

reduce reuse and recycle

works with social posting as well as the content.  Something you posted before could easily be modified and used again. Some of the best forms of paid social media ads come from simply boosting organic content that performed extremely well.
4. Emails
There's a number of ways you can implement email and email marketing to attract people to click on your website. 
Email campaigns

This should be relevant and unique content that your email list

WANT TO SEE

. 

Remember to segment your email lists in order to learn where they came from and what they would like to see the most. 

You can acquire email lists or work with someone who already has credible email lists in order to build your own!
Email signatures

The link you can put in your email signature to catch people's attention. This can be a free tool, a new case study, even testimonials. Through employing this you can direct traffic back to your website.
5. Directories
Directories refer to other listings or citations that link back to your website or business. These contain your business's name, address, and phone number (otherwise referred to as NAP) and should be consistent across platforms. 
Directories give more visibility to your business and every new listing that you create enhances your chances of being found online by customers. 
If your business is visible online, search engines trust the accuracy of your business data, and thus, your chances of ranking on top for local searches increase.
This is why you have to make sure to link back to your website in order to both drive traffic and boost your SEO. 
Some popular local business directories include: 
If you'd like to audit your own local listings check out our partner Brightlocal.
There are many different directories for each industry. This can include doctors, roofers, restaurants, etc. It's important t
o accurately find and list your business within these directories as it will link back to your site and garner you more visibility. 
An important tool you can use to find and navigate directories is through Whitespark.
You can potentially pay to be a part of high-quality directories, but there's plenty of free ones online as well. 
6. Events
Hosting events, either for your own company or through partnering with others, can increase recognition and exposure for your own business, both online and offline. If there's the hype around your business this will prompt people to drive more traffic to your website in order to learn more or to RSVP.
Event Examples could include:
Industry-specific awareness events

Services or products you provide 

Pop-up event

Free workshops, webinars, or educational events.

Galas, Fundraisers, or Charities
By creating and running your own event page you open up a realm of possibilities to connect with and drive traffic to your site simply through exposure. 
Posting on social media

By posting on social media you drive organic and free traffic to your site through topical engagement. This also allows for more exposure and visibility for both your site as well as your event.

Enabling RSVP

Through doing this you have 'tagged' them by gaining their information and can thus remarket to them with future content you create. 
In the past Momentum has hosted various events about digital marketing, educational workshops, Grow Your Business with Google Partner events, Gala Fundraisers, and more! We typically have an RSVP on our website (that we track and cookie to remarket visitors) where the RSVP button actually takes the user to a website like Eventbrite where they can get a ticket or purchase online. You can see some previous events on our website event page.
7. Free Tools
Create a free service, tool, or opt-in for your site. This will add value to your website and drive people to come to your site in expectation of that value. In exchange, however, make sure you collect their contact information. 
This can and should be industry-specific as it will appeal more to your targeted audience. Similarly, you can apply keywords and use of SEO to boost the visibility of your site which increases traffic.
An important thing to remember is to share their as an important piece of content through your social platforms which will help increase organic traffic back to your site. 
Hubspot is a great example of how a company can use Free Tools or opt-ins to create demand and lead generation for companies. They have built their entire business model around Inbound traffic for lead generation and sales. You can do the same by following all these Free Tips and implementing in on your own for a fraction of the cost.
Below you can see a screenshot on your homepage with a FREE OPT-IN to get a Free Website SEO Audit that captures people as leads and funnels them into our marketing campaigns. This works wonders by providing value in return for contact information.
By following these 7 Free Tips to Drive More Website Traffic you will be able to get more relevant website visitors thus increasing your customer base and conversion rate!
Let us know in the comments what tip you're most excited to check out or which seems the most daunting. We would love to help or give you some more information! 
What strategy have you tried or are struggling the most with? Please comment below! 
Written by Mac Frederick.